Feroce leverages the reality of change to deliver investment results.
Today, the commercial real estate market is awash in change.
We view this change (whether mandatory or voluntary) as an opportunity to evaluate ROI from two different perspectives.
The traditional, financial lens of Return on Investment to identify the financial benefits.
The relevance assessment lens of Risk of Ignoring to identify the risk of being left behind.
Through these two lenses, paired with the power of asking questions and listening in the pursuit of excellence, we meet the needs of today for our clients.
Does your stabilized portfolio no longer feel quite so stabilized?
How are you aligning your teams on meeting the ESG+R commitments that have been communicated to stakeholders (or required by regulators)?
How is your asset management team operationalizing ESG+R across the portfolios and buildings?
How is your organization deploying integrated technology solutions that support your investment goals across the portfolio?
Have you identified the second order benefits of your ESG+R strategy?
How are you achieving investment results through the delivery of improved customer experience while meeting your decarbonization goals?
How are you incorporating solar energy into your investment goals?
Let us show you how.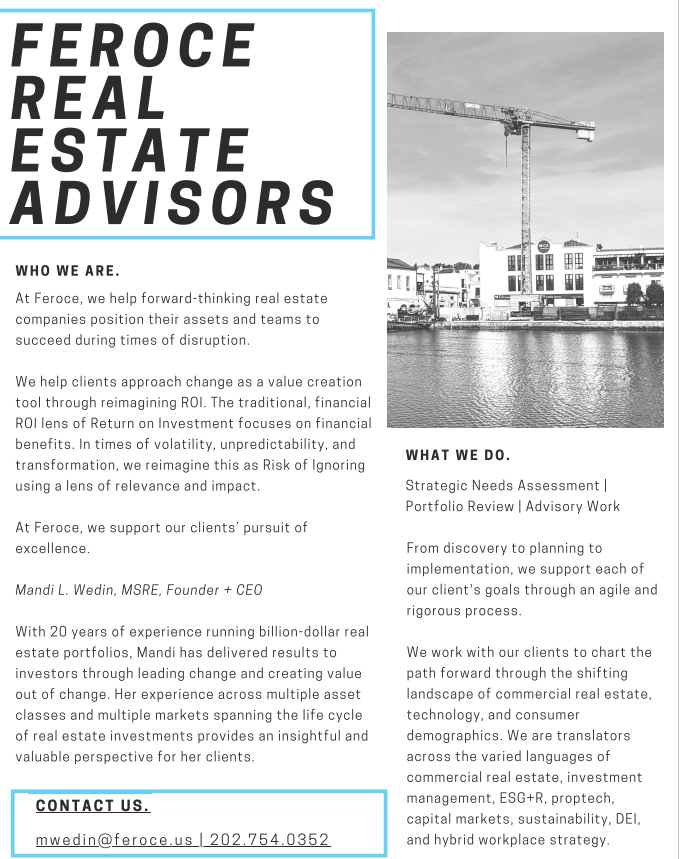 Our services include:
Investment Management

Fractional Asset Management
Transaction Advisory Services
Fund Formation Strategic Guidance

DEI Leadership
ESG+R

Strategic Roadmap
Operational Implementation

Proptech Advisory